Bluebird Booking a le plaisir de gérer la direction artistique des événements suivants :
---
 Festival de Blues d'Ermont :
Dates à venir :
11/03/2021 : Francesco Piu à l'EMJ
12/03/2021 : Bai Kamara au Théâtre Pierre Fresnay
13/03/2021 : Arnaud Fradin & Thomas Troussier + Sarah McCoy au Théâtre Pierre Fresnay
Editions précédentes :
12/03/2020 : Muddy Gurdy à l'EMJ
13/03/2020 : Melvin Taylor au Théâtre Pierre Fresnay
14/03/2020 : Cory Seznec et Malted Milk au Théâtre Pierre Fresnay
14/03/2019 : Big Daddy Wilson au Théâtre Pierre Fresnay
15/03/2019 : Thomas Ford à l'EMJ
16/03/2019 : Martin Harley & Alessandra Cecala + Abou Diarra
Exposition "Love In Vain" sur toute la durée du festival.
En partenariat avec la Mairie d'Ermont
---
Nuit du Blues du Sonambule (Gignac, 34) :
14/12/2018 : Sarah McCoy + Slim Paul
En partenariat avec l'Office Culturel de la Vallée de l'Hérault

---
Crossroads Nights au Pan Piper (Paris)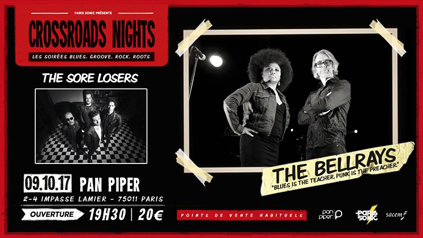 Dates à venir :
11/10/2019 : Sugaray Rayford
11/11/2019 : Cedric Burnside

Concerts passés :
Melvin Taylor, Awa Ly, The Bellrays, The Sore Losers, The Como Mamas, Roland Tchakounté, The James Hunter Six, Theo Lawrence, Black Box Revelation, Livingstone, Otis Taylor, Mathis Haug, Bjorn Berge, Ko Ko Mo, Catfish, Son Of Dave, Cory Seznec, Ana Popovic, Bernard Allison & The Blues Caravan, Abou Diarra, Eric Gales, Mighty Mo Rodgers
---
Blues au 13, le festival des Blues Métissés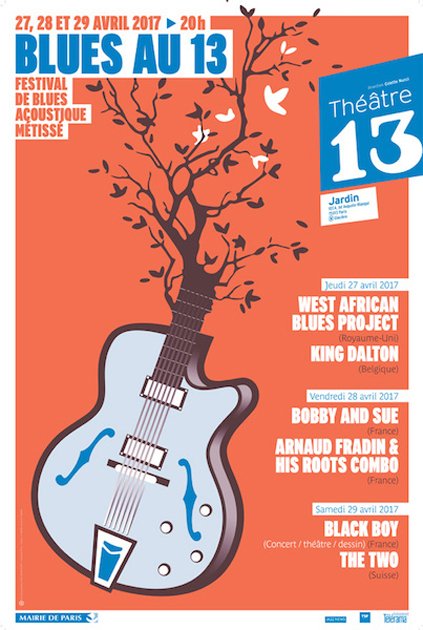 Dates à venir :
16/03/2020 : Muddy Gurdy
Concerts passés :
2019 : Abou Diarra, Big Daddy Wilson
2018 : Chocolate Genius, Awa Ly
2017 : The West African Blues Project, King Daltone, Bobby And Sue, Arnaud Fradin & His Roots Combo, The Two, Black Boy, Sarah McCoy
2016 : Yana Bibb, Gasandji
2015 : Pura Fe, Drivin Mrs Satan, Lisa Doby, Vicious Steel, Charles Pasi, Leyla McCalla, Cotton Belly's
2014 : Eric Bibb, Cisco Hezhaft, Mangane, Harrison Kennedy, Youri Defrance, Alex Massmédia, Sidi Touré, Julien Brunetaud, Tom Attah, Beauty and the Beast, Veronica Sbergia
2012 : Elisabeth Kontomanou, Chapel Hill, Hugo Clarence, Shane Murphy, Sarah Carlier, David Wax Museum, Blackberry & Mr Boohoo, Lek Sen, Mathis Haug, The Hub, Isaya, Gaby Moreno, Big Daddy Wilson, Dawn Tyler Watson & Paul Deslauriers, Mountain Men, The Crippled Frogs
2011 : Malted Milk, Marc André Léger, Eric McFadden, Roland Tchakounté, Amar Sundy, Nina Attal, Keith B.Brown
---
Beautiful Swamp Blues Festival, Calais, édition 2016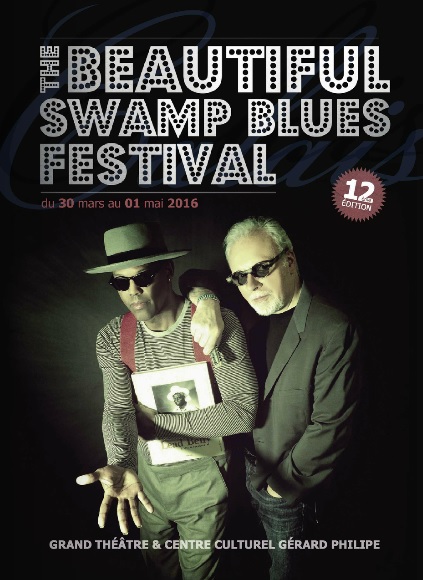 Une édition placée sous le signe de l'ouverture. Ouverture sur les disciplines avec du théâtre, de la BD, des concerts et des conférences. Ouverture sur le territoire, avec plusieurs lieux et différents publics. Enfin, ouverture du champ musical des possibles, avec une création avec Rockin Squat, fondateur du groupe mythique Assassin pionnier du hip-hop en France, du blues-electro avec les No Money Kids et du blues beatbox avec Heymoonshaker.
30/03/2016 Théâtre de Calais : L'Or, de Blaise Cendrars (avec Jean-Jacques Milteau et Xavier Simonin)
28/04/2016 Conservation de Calais : Conférence "La fabuleuse odysée des musiques populaires noires, avec Jean-Jacques Milteau et Sébastian Danchin
29/04/2016 CCGP : Eric Bibb & Jean-Jacques Milteau + Big James & The Chicago Playboys
30/04/2016 CCGP : Jo Harman + The Hillbilly Moon Explosion + Sarah McCoy
01/05/2016 CCGP : Rockin Squat & Cisco Herzhaft + Heymoonshaker + No Money Kids
Du 28/04 au 01/05/2016 Exposition BD "Love in Vain", en partenariat avec Blues sur Seine et Opale BD